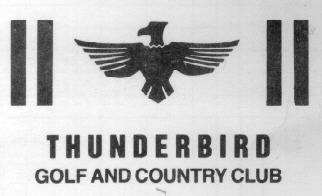 Unofficial Site for the Thunderbird Golf and Country Club
Like your first kiss, you never forget your first round of golf. For me it was in early spring of 1997 (the round, not the kiss). That winter I'd picked up a club for the first time when Jeff and Joe, whom you'll soon meet, took me to the range. Impatiently we waited for the rains to stop until finally, in early March, we were on the first tee of the Thunderbird Golf Course and Country Club.
The place was a dump. The clubhouse was like a seedy bar set up in a double-wide trailer. The course itself was a few acres of crab grass bounded by freeways and low income housing. But that Sunday morning my heart was racing as if I was at Augusta.
Jeff had suggested we play at Thunderbird because it was the cheapest 18 holes in Silicon Valley. Joe joined us for the front nine. After a quick warm up on the range, we pulled our hand carts up to the first tee. I noticed something odd partially submerged in the water hazard; it was an old mattress.
It was a long day and by the end of it I'd shot a 113 (thanks to lots of cheating). But I'd made my first par (without cheating) and felt I could now call myself a (bad) golfer.
Thunderbird closed a few months later; open land in Silicon Valley is too valuable for it to remain undeveloped. But that spring, Jeff, Joe and I (accompanied by Jeff's dad, Jerry) played at Thunderbird every chance we got. Even after the bulldozers arrived we considered playing since the conditions were not that much different from when it was open.
This site is dedicated to the memory of Thunderbird Golf and Country Club. Those who never played there may wonder why anyone ever did. But for those of us who hacked through the sandtrap weeds, lost balls in the mud hazards, and six putted on the "manicured" greens, these photos and stories will bring a smile and maybe a little tear.
If you have T-Bird pictures or stories, please contact me and I'll add them to this web-shrine.
---

Send comments to: algarcia@algarcia.org
---